Banos Arabes Arab Baths In Sevilla
Picture of the dim candle light and warm surroundings which make for a luxurious visit to Aire de Sevilla, Banos Arabes in the city of Seville, Andalusia, Spain.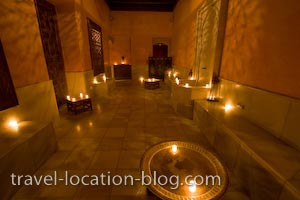 Photo of the resting room at the Banos Arabes or
Arab Baths in the city of Sevilla, Spain.
February 03, 2008:
Resting room at Aire de Sevilla, Banos Arabes (Arab Baths), Santa Cruz, City of Sevilla (Seville), Province of Sevilla, Andalusia (Andalucia), Spain, Europe.
These travel blog entries related to Banos Arabes Arab Baths In Sevilla may interest you too:
Title:
Banos Arabes Arab Baths In Sevilla
Picture of the dim candle light and warm surroundings which make for a luxurious visit to Aire de Sevilla, Banos Arabes in the city of Seville, Andalusia, Spain.
Author:
travel-location-blog.com
Date:
eur_22v_5414
Newest travel blog entries:
Press "Ctrl+D" to bookmark this page.
Please use this Code to link to this page (copy/paste):