Cadiz Harbour At Sunset Andalusia Spain
Small fishing boats crowd the small natural harbour at sunset in the city of Cadiz, Andalusia, Spain.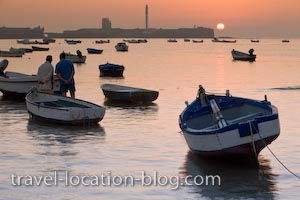 Photo of fishing boats in the Cadiz
harbour during sunset.
January 31, 2008:
Small fishing boats anchored at Playa de la Caleta at sunset in the City of Cadiz, Province of Cadiz, Costa de la Luz, Andalusia (Andalucia), Spain, Europe.
These travel blog entries related to Cadiz Harbour At Sunset Andalusia Spain may interest you too:
Title:
Cadiz Harbour At Sunset Andalusia Spain
Small fishing boats crowd the small natural harbour at sunset in the city of Cadiz, Andalusia, Spain.
Author:
travel-location-blog.com
Date:
eur_22v_4350
Newest travel blog entries:
Press "Ctrl+D" to bookmark this page.
Please use this Code to link to this page (copy/paste):