Canadian Geese Point Pelee National Park Ontario
Picture of a pair of Canadian Geese with their goslings next to the Marsh Boardwalk at Point Point National Park, Ontario, Canada.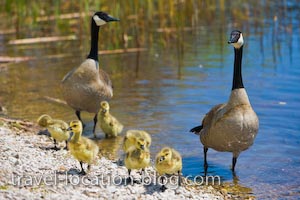 Photo of Canadian Geese at the water's edge
in Point Pelee National Park, Ontario.
May 13, 2008:
We'd just arrived at the Marsh Boardwalk when this family of Canadian Geese exited the lake and took to dry land to graze.
They sure drew a crowd of visitors but it was evident that this was their place and regardless of the crowd of people nearby they were staying. Whenever someone would get too close they'd hiss and if the intruder persisted they'd flap their wings and hiss - a prelude to charging and making physical contact I guess.
A pair of Canadian Geese, Branta canadensis, with goslings at the Marsh Boardwalk in Point Pelee National Park, Lake Erie, Leamington, Ontario, Canada.
These travel blog entries related to Canadian Geese Point Pelee National Park Ontario may interest you too:
Title:
Canadian Geese Point Pelee National Park Ontario
Picture of a pair of Canadian Geese with their goslings next to the Marsh Boardwalk at Point Point National Park, Ontario, Canada.
Author:
travel-location-blog.com
Date:
cdn_22v_12378
Newest travel blog entries:
Press "Ctrl+D" to bookmark this page.
Please use this Code to link to this page (copy/paste):