Castle Of Guadalest Alicante Spain
Perched precariously on a rocky pinnacle, the castle of Guadalest shares it's vistas over the town of Guadalest with a church belfry.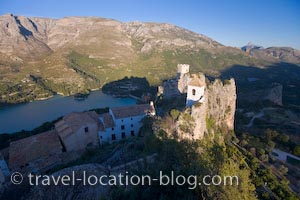 Picture of the castle and church belfry atop a rocky
cliff above the town of Guadalest, Alicante, Spain.
January 18, 2008:
White washed church belfry beside the Castell de Guadalest, Castle of Guadalest, Guadalest, Costa Blanca, Province of Alicante, Comunidad Valenciana, Spain, Europe.
More info about our travels coming soon ...
These travel blog entries related to Castle Of Guadalest Alicante Spain may interest you too:
Title:
Castle Of Guadalest Alicante Spain
Perched precariously on a rocky pinnacle, the castle of Guadalest shares it's vistas over the town of Guadalest with a church belfry.
Author:
© travel-location-blog.com
Date:
eur_22v_0636
Newest travel blog entries:
Press "Ctrl+D" to bookmark this page.
Please use this Code to link to this page (copy/paste):