City Of Jaen Andalusia Spain
A city surrounded by groves of olive trees, the city of Jaen is known as the Olive Oil capital of the world and is the largest producer of this liquid gold for world markets.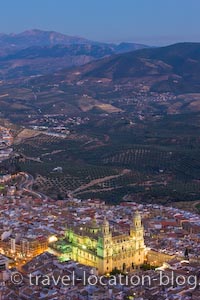 Picture of the large Cathedral building
in the city of Jaen, Andalusia, Spain.
January 22, 2008:
Cathedral and City of Jaen in the Province of Jaen, Andalusia (Andalucia), Spain, Europe.
More info about our travels coming soon ...
These travel blog entries related to City Of Jaen Andalusia Spain may interest you too:
Title:
City Of Jaen Andalusia Spain
A city surrounded by groves of olive trees, the city of Jaen is known as the Olive Oil capital of the world and is the largest producer of this liquid gold for world markets.
Author:
© travel-location-blog.com
Date:
eur_22v_1994
Newest travel blog entries:
Press "Ctrl+D" to bookmark this page.
Please use this Code to link to this page (copy/paste):