Fall Colours Of Parc National Du Mont Tremblant Quebec Canada
The intensity of the fall colours seem to increase with each day during our stay in the Parc national du Mont Tremblant in the province of Quebec, Canada.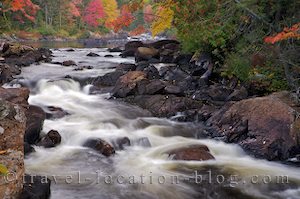 Picture of fall colours along Riviere du Diable in
Parc national du Mont Tremblant, Quebec, Canada.
September 22, 2007:
It sure is nice to be out in the wilderness again after being in the city for a week. Montreal is a beautiful city but we by far prefer the serenity of the Canadian wilderness to towns or cities. However, after saying this, we still have another city to explore - Quebec City which is equally as pretty as Montreal, with an old town bursting with history. We decide that we'd spend today exploring Parc National du Mont Tremblant with it's vibrant fall colours and pristine rivers, and end the day near the city of Quebec. Tomorrow would be a city day - but we would enjoy the peace of the provincial park first.
There are a few approaches to Parc National du Mont Tremblant, we'd come into the park from the village of Tremblant to the west and camped at Lac Monroe near that entrance. Today we would drive east through the park and end up near Lac de L'Assomption then exit through the gates nearby and head for Quebec City.
Parc national du Mont Tremblant, the largest park in Quebec, is open year round and caters to an array of summer and winter activities, plus everything in between. Lakes of many sizes dot the landscape (400 to be precise) and are fed by sparkling rivers, many of these are punctuated by waterfalls. Fall is a particularly pleasant time to visit the park as the lakes and rivers are fringed by colourful trees of fiery red, bright yellow, and orange. There is also the added advantage of fewer tourists.
We start the day with another quick paddle on Lac Monroe before hoisting the canoe back onto the roof of the camper. There are a number of waterfalls which are easily accessed from the road by taking a short 5-10 minute walk. The waterfalls we aim for are Chutes Croches, Chute du Diable, and Chute aux Rats and they are stunning!
We stayed in the park for as long as we could to explore the extensive network of rivers, lakes, and enchanted forests where the trees are clothed in their bright, and colourful leaves! By late afternoon we decided we'd better make tracks for the city of Quebec and find our campground. Tomorrow would be a busy day. We headed out of the park from Lac de L'Assomption and drove to the outskirts of Quebec where our chosen campground was - only 15 minutes from the city centre.
These travel blog entries related to Fall Colours Of Parc National Du Mont Tremblant Quebec Canada may interest you too:
Title:
Fall Colours Of Parc National Du Mont Tremblant Quebec Canada
The intensity of the fall colours seem to increase with each day during our stay in the Parc national du Mont Tremblant in the province of Quebec, Canada.
Author:
Michelle Coats
Date:
cdn_k3s30387
Newest travel blog entries:
Press "Ctrl+D" to bookmark this page.
Please use this Code to link to this page (copy/paste):