Farewell To Oliva Nova And Spain
We pack up our temporary office and head back to Germany.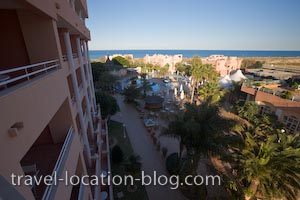 Photo of Oliva Nova Resort overlooking the
Mediterranean Sea along the Costa Blanca, Spain.
February 13, 2008:
Today we leave our makeshift but comfy room/office in Oliva Nova and drive back to Alicante to drop off the rental car and catch our flight back to Munich.
It's been an eventful and productive stay in Spain with a combination of travel and staying put to take care of the administrative side of business - always a balancing act when we're on the road.
See you soon .. back in Bavaria!
These travel blog entries related to Farewell To Oliva Nova And Spain may interest you too:
Title:
Farewell To Oliva Nova And Spain
We pack up our temporary office and head back to Germany.
Author:
Michelle Coats
Date:
eur_22v_5735
Newest travel blog entries:
Press "Ctrl+D" to bookmark this page.
Please use this Code to link to this page (copy/paste):