Frozen Lakes And Sunshine But No Polars Bears
Searching the tundra all day for polar bears but turning up empty handed again - they must be hiding!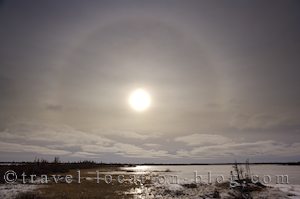 Picture of a halo around the sun over Lake
Iwago in Churchill, Manitoba.
October 30, 2007:
After the excitement of yesterday - today was a return to what's become the norm. We didn't see a single polar bear! All we saw, as far as wildlife, was a fox way off in the distance which was spooked off by a helicopter.
We had seen a polar bear resting on the fringes of icy Lake Iwago a few days prior so we were hopeful that he might still be hanging around the area. Even that one had left and besides the spooked fox there was nothing else! It was certainly cold enough for the bears now at minus 6 degrees celcius!
There was a lot of haze in the sky today which diffused the light and created an interesting halo around the sun. At least the sun and lake gave us a subject to photograph!
We headed home after checking for polar bears along a couple of side roads and had no further luck - just another frustrating day for a wildlife photographer!
These travel blog entries related to Frozen Lakes And Sunshine But No Polars Bears may interest you too:
Title:
Frozen Lakes And Sunshine But No Polars Bears
Searching the tundra all day for polar bears but turning up empty handed again - they must be hiding!
Author:
Michelle Coats
Date:
cdn_k3s34939
Newest travel blog entries:
Press "Ctrl+D" to bookmark this page.
Please use this Code to link to this page (copy/paste):