Funky Shops At The Kensington Markets Toronto
Picture of a funky shop housed in an old Victorian Style house in the Kensington Markets, city of Toronto, Ontario.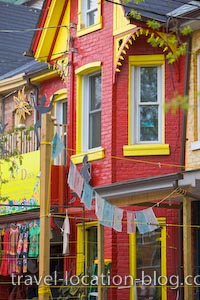 Picture of a funky red house/shop
at the Kensington Markets, Toronto.
April 25, 2008:
Funky shops and unique stores add to the unique character of the Kensington Market district in downtown Toronto. Old Victorian style houses are coated in bright paint while merchandise is hung outdoors to attract the attention of passers-by.
Funky shops in Victorian style houses at the Kensington Market, Toronto, Ontario, Canada.
These travel blog entries related to Funky Shops At The Kensington Markets Toronto may interest you too:
Title:
Funky Shops At The Kensington Markets Toronto
Picture of a funky shop housed in an old Victorian Style house in the Kensington Markets, city of Toronto, Ontario.
Author:
travel-location-blog.com
Date:
cdn_22v_10527
Newest travel blog entries:
Press "Ctrl+D" to bookmark this page.
Please use this Code to link to this page (copy/paste):