High Adventure At Toronto Airport And Country Living In Brantford
Challenging driving makes for some adventure at the Toronto Airport before visiting with a friend in Brantford, Ontario.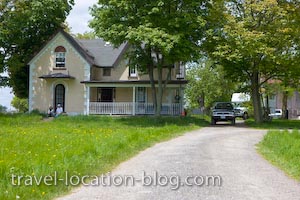 Picture of our friend's place in Brantford,
Ontario, Canada.
April 30, 2008:
Today we picked up the camper and hit the road again, but our first task is to drop the rental car off at the Toronto International Airport.
It sounds easy enough ... right??? It would've been a little more straight forward if a). I'd gone to the right terminal ... "just follow the signs" he said! and b). we didn't have such a large camper!
Anyway, I followed the signs to the rental car drop off point and everything was going smoothly - I handed over the keys after the inspection and headed for the entrance to meet up with Rolf who'd be waiting for me outside. Well he wasn't there, so I phoned to see how far away he was and he told me he was already there. Hmmmmm .. strange - it's not that you could miss the camper, it kind of stands out. After running back and forth and up and down stairs etc etc I finally decided to ask someone which terminal I was at and discovered I was at terminal 3 - Rolf was at terminal 2 the other location for rental car drop off and a very long way away! Note to self: establish which terminal to meet someone at when dealing with a large sprawling airport.
Luckily, Toronto Airport operates a sky train between all terminals with regular departures so I hurried to the departure point and a few minutes later the train arrived to whisk me away to terminal 2. It's a free service with loads of space for those with lots of luggage etc - a very stress free way of travelling between terminals. Shortly after hopping off the train - Rolf and I were reunited.
Our second challenge was to find our way out of the Airport on roadways with a high enough clearance. We started off down the road the way we were facing but it was a dead end for us - it lead to a covered car park with a 2 metre clearance (not enough for us). Wouldn't normally be a problem but to make our situation a little more sticky we were on a one way road. It's a good thing we have backing lights!! We backed up for about 200 metres along a curved road with our hazard lights blazing. Another good thing is the speed limit on that particular road was only 20km/h so it meant that the oncoming traffic was only going around 30-40km/h!
Eventually we were far enough back to take a side road and then we were on our way and we could breathe again! Our original plan was to head down to Point Pelee National Park that night to start the trip but before heading down there we decided to stop in and visit a friend nearby.
Our intention was to visit for a coffee but we ended up staying overnight - then alas three weeks later we were still there. It was a great place and we had a ton of fun catching up with our friend Alen Milic, a Cinematographer Rolf met 12 years ago during a photo shoot in Newfoundland.
Right now Alen is in the middle of a huge project which consists of overseeing the building of a 35 foot sailboat, which he will later sail across the Atlantic Ocean in. As a cinematographer, he is recording the whole process of boat building from start to finish, he will also document the sea trials on Lake Ontario, then finally the actual Atlantic crossing which will end in the Croatian Adriatic. The voyage, which will begin on May 1, 2009 from St John's Newfoundland, will span two and half months ending in Dubrovnik Croatia on July 15, 2009. Follow the progress of the Julius Project on Alen's website - High Seas TV "Julius rebuild log" - it's an exciting project!
As well as visiting with Alen, we also managed to catch up on work and do a few photo shoots, using his home as a base. Having everything in place before we start travelling paves the road to a relatively stress free trip and that's a good thing!
These travel blog entries related to High Adventure At Toronto Airport And Country Living In Brantford may interest you too:
Title:
High Adventure At Toronto Airport And Country Living In Brantford
Challenging driving makes for some adventure at the Toronto Airport before visiting with a friend in Brantford, Ontario.
Author:
Michelle Coats
Date:
cdn_22v_13309
Newest travel blog entries:
Press "Ctrl+D" to bookmark this page.
Please use this Code to link to this page (copy/paste):