Kauri Forests Of Northland
A walk through ancient Kauri Forests then a drive to the top of New Zealand.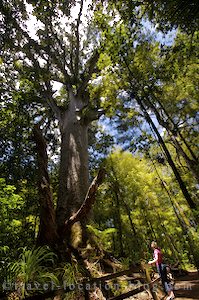 Photo of a large Kauri Tree in
Waipoua Forest, Northland.
Our first mission this morning was to capture the sheer size of an ancient 1,200 year old Kauri Tree along the bush walk track in Trounson Kauri Park. This elder of the forest with its tall straight trunk has a vast vertical garden in it upper branches and is a popular bird roost for the native Wood Pigeons and other bird species of the forest.
Just a note here: the campsite at Trounson Kauri Park is operated by the Department of Conservation and is a very nice spot - remote and quiet and even has a shower, communal kitchen and toilets, the price was $10 per person per night. We were pretty annoyed when some folks pulled up in their large campers and started to use all the facilities - hosing the dust off their campers, hooking up to the power, using the showers and not paying a dime!! This kind of traveler gives other freedom campers a bad reputation - they took whatever they could get for free, I'd call it stealing - if I may be so bold! Problem is that the more this happens - the less likely this type of facility will remain open on an honesty basis. Eventually it will have to be monitored and more rules will be brought in plus staff to pay - ruining the experience for other travelers. We can understand why some camp hosts are so annoyed because this even happens at private campgrounds with people sneaking in. PLEASE STAY FAIR WHEN TRAVELING!!
Anyway enough grumbling for now .. we headed off to Waipoua Forest a few kms up the road. Waipoua Forest covers an area of 15,000 hectares and contains 2,639 hectares of mature Kauri trees which are protected. Our first stop in Waipoua was at the tracks leading to the Four Sisters which are a stand of four kauri trees growing together and appearing to be joined at the base. Further along this track is the second largest known Kauri Tree Te Matua Ngahere "Father of the Forest" with a girth of 16.41metres.
For anyone whose travelled in Northland of New Zealand, they will have heard of the Kauri named Tane Mahuta "God of the Forest" and is the oldest known living Kauri Tree estimated to be at least 1,500 years old.
Further north we skirt the creamy sandy shores of the Hokianga Harbour with its rips and extreme currents. Then the race was on to reach Cape Reinga for sunset. As usual time just flitters away like sand running through your hands - there is so much to see and never enough time to see it all!
With a few stops a long the way at Kaikohe and Kaitaia, we head directly for the cape, the second most northerly tip of New Zealand (the furtherest north is actually North Cape to the east). The cape is steeped in Maori legend and is said to be the place of departing spirits.
After sunset, we make our back along the road and turn to the east to find a camp site in Sandy Bay or Tapotupotu Bay right on the beach!
These travel blog entries related to Kauri Forests Of Northland may interest you too:
Title:
Kauri Forests Of Northland
A walk through ancient Kauri Forests then a drive to the top of New Zealand.
Author:
Michelle Coats
Date:
06.01.07 - nzk3s9968 Kauri Forests of Northland
Newest travel blog entries:
Press "Ctrl+D" to bookmark this page.
Please use this Code to link to this page (copy/paste):