Maori Totem Carving
A totem or pou carving incorporates figures from Maori legends and mythology.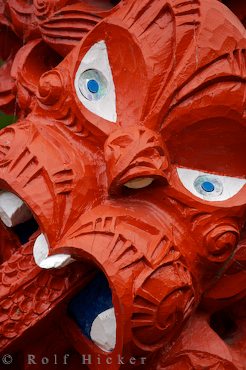 Picture of the type of Maori carvings on a
totem at the Wairakei Terraces, New Zealand.

Pou (Totem) at the Wairakei Terraces Maori Village near Taupo, North Island, New Zealand. This portion of the Pou shows the serpent form of the God of the Waterways.
These travel blog entries related to Maori Totem Carving may interest you too:
Title:
Maori Totem Carving
A totem or pou carving incorporates figures from Maori legends and mythology.
Author:
Rolf Hicker Photography
Date:
nzk3s11508 Maori Totem Carving
Newest travel blog entries:
Press "Ctrl+D" to bookmark this page.
Please use this Code to link to this page (copy/paste):