Morinka Czech Republic
Arriving in Germany, leaving for Morinka in the Czech Republic, Europe.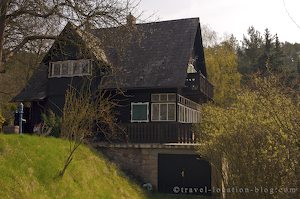 Photo of a Czech landhouse in the village
of Morinka, Czech Republic
After traveling between Germany and the Czech Republic, we arrive at our destination which is the village of Morinka (pronounced Mo-shinka) a beautiful country village not far from the famous Karlstein Castle. A real Czech Landhouse will be our base over the next few days, from here it is only about 15 mins to the famous castle of Karlstein and only 35 mins away from Prague.
The quait landhouse has a beautiful conservatory overlooking the countryside and an orchard and makes a delightful place to enjoy breakfast with the windows open, listening to the song of birds.
These travel blog entries related to Morinka Czech Republic may interest you too:
Title:
Morinka Czech Republic
Arriving in Germany, leaving for Morinka in the Czech Republic, Europe.
Author:
Michelle Coats
Date:
18.04.06 - Morinka Czech Republic w4020
Newest travel blog entries:
Press "Ctrl+D" to bookmark this page.
Please use this Code to link to this page (copy/paste):