One Last Drive In Search Of Polar Bears In Churchill Manitoba
The grand finale - the polar bears come out of hiding as we take our last drive through the tundra for 2007 on the fringes of Hudson Bay near Churchill.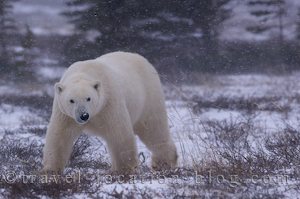 Picture of a large polar bear walking through the
snow near Churchill in Hudson Bay, Manitoba.
November 5, 2007:
Tonight is pack up time, but today we headed out in full force for our last chance at polar bear watching for 2007. This evening we farewell our friend Thomas at the airport, then tomorrow morning we catch a bird out of Churchill ourselves.
So far, most of our attention has been drawn to the Churchill Wildlife Management Area which is where we've seen the most polar bears. Today however, we decided to start a few kilometres outside the boundary of the management area and it paid off!
The first road we explored revealed two bears who were resting ... at least until we arrived! While one took off in a panic, the other just sat up and looked us over, then slowly roused himself. Although he wasn't panicked by our presence he obviously decided it prudent to move away, so took a well concealed and half eaten animal carcass in his mouth and disappeared over a small hill. We continued along the road and soon caught up with him as he was walking across a frozen lake. Even though we were not moving fast he suddenly got a little spooked and, dropping his meal in the middle of the lake, ran off. We parked the truck, got into position, turned off the engine and waited ... if he's hungry he would be back for sure. Unfortunately, he wasn't hungry enough obviously cos he never came back!
Just as we were about to leave we saw another (different) bear heading our way and made a quick bet that he was following his nose to the half eaten carcass on the ice. Sure enough he came right to the spot and got straight down to the business of eating. We were watching him for a long time and he wasn't bothered by us at all. It was the cold in the end which ushered us back in to the truck - this bear was obviously not going anywhere until his meal was finished. We decided to head off in search of more bears and left him to his gradually deminishing meal.
After returning an hour or so later, having had no luck finding polar bears further along the road, there was no sign of the carcass and the said bear was on his way out - we think he'd been spooked by a film crew who were at the scene.
On our way back to the Bed and Breakfast, we checked out the goings-on along another road and stumbled on two polars bears engaged in a little territorial battle. They were'nt sparring, but the bigger of the two was chasing the smaller bear away. The small bear (which was quite large) headed our way, and with the windows of the truck open until he was around 5-8 metres from the truck, we had a great look at him as he approached the truck. It's easy to forget during the excitement of the moment just how powerful these animals are. We all need to have our wits about us and ensure that windows are wound up, and we're all safely in the vehicle when the animal approaches. These guys look really, really cute and cuddly, but in reality they are very dangerous to us mere humans.
The bear zig zagged between the beach of Hudson Bay and the road then eventually headed up and over a rocky cliff and away from the beach where we lost sight of him. That was our cue to head for home.
The guys headed out again briefly after dropping me off and had another encounter with a curious polar bear but came back for an early dinner before packing up and heading for the airport. It was a pretty awesome day of bear watching!
After saying our farewell's to Thomas at the airport, Rolf and I returned to Duncan's Den and packed up our things - ready for our departure tomorrow morning. Tomorrow, we'll be heading back to Toronto via Winnipeg then continuing on to Germany the next day.
These travel blog entries related to One Last Drive In Search Of Polar Bears In Churchill Manitoba may interest you too:
Title:
One Last Drive In Search Of Polar Bears In Churchill Manitoba
The grand finale - the polar bears come out of hiding as we take our last drive through the tundra for 2007 on the fringes of Hudson Bay near Churchill.
Author:
Michelle Coats
Date:
cdn_k3s36850
The scientific name for the picture One Last Drive In Search Of Polar Bears In Churchill Manitoba is:
Ursus maritimus
Newest travel blog entries:
Press "Ctrl+D" to bookmark this page.
Please use this Code to link to this page (copy/paste):