Peggys Cove Lighthouse Nova Scotia
From Halifax, Peggy's Cove Lighthouse is a short drive so we headed out to possibly the most photographed lighthouse in the world.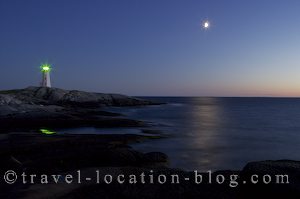 Picture of the Peggy's Cove Lighthouse and moon
during blue hour over St Margaret's Bay, Nova Scotia.
August 19, 2007:
Later in the afternoon after visiting Halifax, we headed out to Peggy's Cove and to Peggy's Cove Lighthouse which is one of the most photographed lighthouses in the world. It is also the only place you'll find an actual post office housed in a lighthouse.
These travel blog entries related to Peggys Cove Lighthouse Nova Scotia may interest you too:
Title:
Peggys Cove Lighthouse Nova Scotia
From Halifax, Peggy's Cove Lighthouse is a short drive so we headed out to possibly the most photographed lighthouse in the world.
Author:
Michelle Coats
Date:
cdn_k3s27537
Newest travel blog entries:
Press "Ctrl+D" to bookmark this page.
Please use this Code to link to this page (copy/paste):