Trevelez Sierra Nevada Andalusia Spain
Trevelez is situated at 1440 metres above sea level - the highest village in Spain, and is found on the slopes of the highest mountain in the Sierra Nevada mountain range in Andalusia.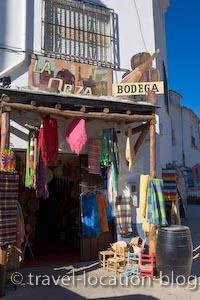 Picture of a bodega and souvenir shop
in Trevelez, Andalusia, Spain.
January 20, 2008:
As well as being the highest village in Spain, it is also famous for its quality jamon serrano (cured ham) - which is thanks to the the clean, cool, and dry climate of it's alpine location. Beautiful hand woven blankets is another claim to fame for this tiny village.
Hand woven blankets and clothing outside La Orza Bodega and gift store in the town of Trevelez, Las Alpujarras, Sierra Nevada, Parque Natural de Sierra Nevada, Province of Granada, Andalusia (Andalucia), Spain, Europe.
More info about our travels coming soon ...
These travel blog entries related to Trevelez Sierra Nevada Andalusia Spain may interest you too:
Title:
Trevelez Sierra Nevada Andalusia Spain
Trevelez is situated at 1440 metres above sea level - the highest village in Spain, and is found on the slopes of the highest mountain in the Sierra Nevada mountain range in Andalusia.
Author:
© travel-location-blog.com
Date:
eur_22v_0824
Newest travel blog entries:
Press "Ctrl+D" to bookmark this page.
Please use this Code to link to this page (copy/paste):