Ubeda UNESCO World Heritage Site Andalusia Spain
Picture of the UNESCO designated World Heritage Site - the town of Ubeda features many historic buildings including the Capilla del Savador.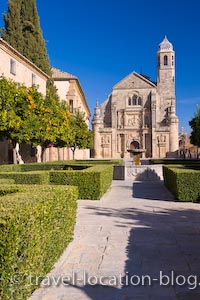 Photo of Capilla del Salvador, town
of Ubeda, a UNESCO Site, Spain.
January 23, 2008:
Capilla del Salvador (church) in Plaza de Vazquez de Molina, Town of Ubeda - a UNESCO World Heritage Site, Province of Jaen, Andalusia (Andalucia), Spain, Europe.
These travel blog entries related to Ubeda UNESCO World Heritage Site Andalusia Spain may interest you too:
Title:
Ubeda UNESCO World Heritage Site Andalusia Spain
Picture of the UNESCO designated World Heritage Site - the town of Ubeda features many historic buildings including the Capilla del Savador.
Author:
© travel-location-blog.com
Date:
eur_22v_2180
Newest travel blog entries:
Press "Ctrl+D" to bookmark this page.
Please use this Code to link to this page (copy/paste):