Vernazza To Portofino Ligure Italy
The village of Vernazza in the Cinque Terre National Park, Ligure, Italy.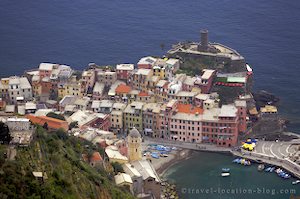 Photo of the pretty village of Vernazza
in the Cinque Terre Ligure, Italy.
The villages in the Parco Nazionale delle Cinque Terre are not joined along the coast by road (only by a hiking track), therefore we have to return to the main road to get to the next location and the secondary roads are very windy and narrow, but it is well worth the effort! We arrive at the final village on our agenda - Vernazza which we have dubbed as our favourite!!
Itís a pretty village which is not accessible by car unless you are a resident of the village. We parked the car at the top of the hill, and loaded up with equipment as usual then began the descent. The road down was very narrow with no footpaths, steep, and not to mention busy - with the typical 2 stroke vehicles, cars, and buses passing every few minutes. The houses along the road had yards full with lemon trees (laden with lemons), grape vines, and veges growing.
Once in the main centre of the village we found the tower, as well as the Castello Doria on the waterfront. This village is so picturesque with colourful dingies tied up in the small harbour, and beautiful villas on the waterfront - the typical image of the Riviera and Mediterranean Sea! We paid 1 euro each to enter the Castello (or Castle), which gave us the opportunity to climb the spiral stairs and view the village from the Castle tower.
Too soon it was time to move on to the next destination along the Riviera - Portofino. However, it was just soooo busy with no place to park, so after checking out the luxury boats/yachts and driving through town, we decided to make a beeline out of there. We drove and ended the day at the resort town of Noli with dinner in the town of Finale Ligure.
These travel blog entries related to Vernazza To Portofino Ligure Italy may interest you too:
Title:
Vernazza To Portofino Ligure Italy
The village of Vernazza in the Cinque Terre National Park, Ligure, Italy.
Author:
Michelle Coats
Date:
08.05.06 - Vernazza to Portofino Ligure Italy w6813
Newest travel blog entries:
Press "Ctrl+D" to bookmark this page.
Please use this Code to link to this page (copy/paste):