Whales And Sunsets In Kaikoura
A stunning flight over a sperm whale then the day is topped off by a stunning coastal sunset.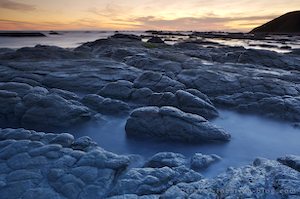 Photo of sunset along the Kaikoura Coast
on the South Island, New Zealand.
After a brief orientation of the Kaikoura townsite on this bright and sunny day, including a walk along the beach, we headed out to the airport to embark on a scenic whale watching flight with Wings over Whales. Our aim was for aerial shots of the mighty sperm whales which inhabit these coastal Pacific waters and stunning views of the coastline and Kaikoura Peninsula. After a briefing session we were on our way!
The whales chose to be elusive today, all but one which stayed on the surface long enough for a few circles overhead before it sunk below and hung just a few metres below the water.
It was soon time to return to the landing strip so left the sperm whale and enjoyed the coastal scenery on our return.
Afterwards we set up for a sunset shot from the look out point overlooking Kaikoura town site, South Bay and the coastline before we turned in for the night!
These travel blog entries related to Whales And Sunsets In Kaikoura may interest you too:
Title:
Whales And Sunsets In Kaikoura
A stunning flight over a sperm whale then the day is topped off by a stunning coastal sunset.
Author:
Michelle Coats
Date:
06.12.06 - nzk3s2837 Whales and Sunsets Kaikoura
Newest travel blog entries:
Press "Ctrl+D" to bookmark this page.
Please use this Code to link to this page (copy/paste):