Wind Power Generation On The Bruce Peninsula Ontario
Three large turbines positioned along Highway 6 on the Bruce Peninsula produce enough energy for the immediate area as an alternative to fossil fuels, nuclear, or hydro dams.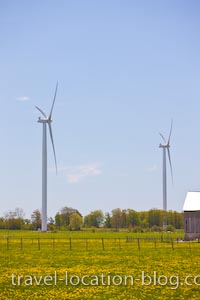 Picture of windmills in use on
the Bruce Peninsula, Ontario.
May 25, 2008:
We head away from the Bruce Peninsula National Park and Fathom Five National Marine Park today.
The first destinations lined up for the day were Sauble Falls and Sauble Beach, and as it turned out they would be the only destinations. Time just flies - as you've heard me say before: Canada is such a large chunk of land, you can travel for miles and not really feel like you've gone anywhere! There are also so many interesting places to stop along the way that time runs away on us.
Heading south from the tip of the Bruce Peninsula, we passed by three large wind turbines - part of a wind farm which produces enough power to supply the homes in the immediate area. The bulls in the surrounding paddocks seem unperturbed by the constant motion of the blades while they feast on the lush grass amongst bright dandelions - food is more important I guess!!
It's great to see communities turning to renewable energy and alternatives to fossil fuel.
These travel blog entries related to Wind Power Generation On The Bruce Peninsula Ontario may interest you too:
Title:
Wind Power Generation On The Bruce Peninsula Ontario
Three large turbines positioned along Highway 6 on the Bruce Peninsula produce enough energy for the immediate area as an alternative to fossil fuels, nuclear, or hydro dams.
Author:
Michelle Coats
Date:
cdn_22v_13551
Newest travel blog entries:
Press "Ctrl+D" to bookmark this page.
Please use this Code to link to this page (copy/paste):