Winter Wonderland In Freising Germany
For the past two days we have woken to a snow-covered winter wonderland here in Freising, Germany.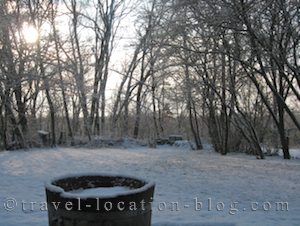 Picture of the snow-covered back yard in Freising,
Germany - a winter wonderland!
November 15, 2007:
It's mid November and the snow has arrived, at least for a little while. After two days of grey weather, sleet, and snow, Freising is looking more like a winter wonderland which was enhanced this morning by the bright golden sunshine!
This winter will be our first in a couple of years - we managed to skip the worst of the winter in Port McNeill last year by heading to New Zealand in November and staying through to March. We arrived back in Canada then in time to see the spring flowers - fields of daffodils.
In a couple of weeks the streets in many of the small towns and villages throughout Germany will be a hive of activity as the Christmas markets get underway. I'm hoping for a little more snowfall to add to the atmosphere.
We've been here a week already and are only just getting over the jet lag. We always get over the worst of it by staying up as late as possible on the first night but there's always a lingering tiredness for at least a week. We are now starting to feel human again!
These travel blog entries related to Winter Wonderland In Freising Germany may interest you too:
Title:
Winter Wonderland In Freising Germany
For the past two days we have woken to a snow-covered winter wonderland here in Freising, Germany.
Author:
Michelle Coats
Date:
img_3295
Newest travel blog entries:
Press "Ctrl+D" to bookmark this page.
Please use this Code to link to this page (copy/paste):