Zig Zagging Across Andalusia Spain
After returning to Sevilla for a photo shoot of the arab baths, we head off again today and visit a few Pueblos Blancos (white towns) before returning to the town of Alcaidesa for the night after zig zagging across the countryside of Andalusia.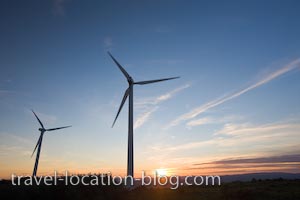 Photo of the wind turbines producing renewable
energy in the province of Malaga, Andalusia, Spain.
February 03, 2008:
Wind turbines near the town of Casares, Costa del Sol, Province of Malaga, Andalusia (Andalucia), Spain, Europe.
More info about our travels in Spain coming soon ...
These travel blog entries related to Zig Zagging Across Andalusia Spain may interest you too:
Title:
Zig Zagging Across Andalusia Spain
After returning to Sevilla for a photo shoot of the arab baths, we head off again today and visit a few Pueblos Blancos (white towns) before returning to the town of Alcaidesa for the night after zig zagging across the countryside of Andalusia.
Author:
travel-location-blog.com
Date:
eur_22v_5691
Newest travel blog entries:
Press "Ctrl+D" to bookmark this page.
Please use this Code to link to this page (copy/paste):