Bavarian Traditions On May 1st
The Maibaum Festival is an annual Bavarian Tradition held in Germany, Europe.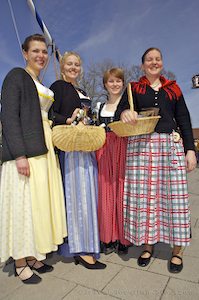 Photo of women dressed in traditional
dirndl's on May 1st in Putzbrunn.
As mentioned yesterday, today is a public holiday in Germany - The Maibaum festival is a Bavarian tradition and is about the raising of the May tree which brings the locals out in their dirnlís and lederhosen. We visited the town of Putzbrunn near Munich during Maibaum festival which provided a full day of entertainment - what an experience for a kiwi and on the other hand Rolf was quite at home.
Traditional Maibaumfest in Putzbrunn in Southern Bavaria, Germany, near Munich.

These travel blog entries related to Bavarian Traditions On May 1st may interest you too:
Title:
Bavarian Traditions On May 1st
The Maibaum Festival is an annual Bavarian Tradition held in Germany, Europe.
Author:
Michelle Coats
Date:
01.05.06 - Bavarian Traditions on May 1st w4827
Newest travel blog entries:
Press "Ctrl+D" to bookmark this page.
Please use this Code to link to this page (copy/paste):