Country Road Pienza Tuscany Italy
Picture of a gravel road leading through the Tuscan countryside near the town of the Pienza, Tuscany, Italy.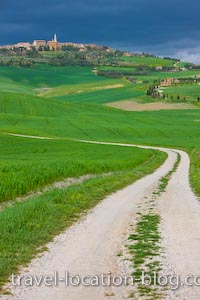 Photo of a country road backdropped
by the town of Pienza, Tuscany, Italy.
April 11, 2008:
View of the Town of Pienza (UNESCO World Heritage Site), surrounded by the Tuscan landscape, Province of Siena, Region of Tuscany, Italy, Europe.
These travel blog entries related to Country Road Pienza Tuscany Italy may interest you too:
Title:
Country Road Pienza Tuscany Italy
Picture of a gravel road leading through the Tuscan countryside near the town of the Pienza, Tuscany, Italy.
Author:
travel-location-blog.com
Date:
eur_22v_9082
Newest travel blog entries:
Press "Ctrl+D" to bookmark this page.
Please use this Code to link to this page (copy/paste):