Elusive Sunset In San Gimignano Tuscany Italy
Exploring several historic towns in the Tuscany, we end the day waiting for a sunset over San Gimignano, which was to prove elusive.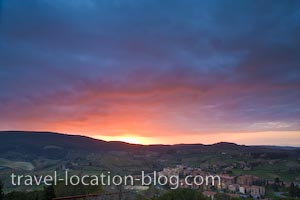 Picture of the brief sunset light over the
landscape surrounding San Gimignano, Tuscany, Italy.
April 7, 2008:
Sunset over the landscape surrounding the town of San Gimignano, a UNESCO World Heritage Site, Province of Siena, Region of Tuscany, Italy, Europe.
More info about our travels in Italy coming soon ....
The previous 5 pictures are also taken from today.
These travel blog entries related to Elusive Sunset In San Gimignano Tuscany Italy may interest you too:
Title:
Elusive Sunset In San Gimignano Tuscany Italy
Exploring several historic towns in the Tuscany, we end the day waiting for a sunset over San Gimignano, which was to prove elusive.
Author:
travel-location-blog.com
Date:
eur_22v_7437
Newest travel blog entries:
Press "Ctrl+D" to bookmark this page.
Please use this Code to link to this page (copy/paste):