Stormy Weather In Lake Superior Provincial Park
A close look at a thunder and lightening storm during our stay at Agawa Bay in Lake Superior Provincial Park, Ontario.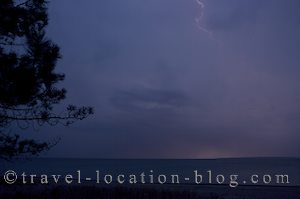 Picture of an approaching thunder and lightening
storm in Lake Superior Provincial Park.
October 5, 2007:
The other thing we noted about our new neighbours (who were actually quite a few sites away) was that they were in tents, and by the looks of the distant sky and looking at the weather forecast online, we'd say the rain was on its way.
We decided to have an early dinner and enjoy one of the last remaining nights in our camper - out in the wilderness surrounded by busy squirrels, with the sound of Lake Superior lapping at the nearby sandy shores. It's getting dark earlier now which makes our job a little easier. As we stood on the beach to watch the sunset in the clear sky, then the darkness replace the light, we spot what looks like northern lights above us - very faint but definitely flickering lights.
Rolf raced back to the camper to collect the camera and tripod - an opportunity for photographing northern lights should never be passed up! He quickly set up and started the long exposure! Well, the northern lights never really came to much but what followed was interesting. We'd seen clouds building up in the distance - very dark and threatening clouds ... and they were slowly heading our way. We saw the bright slither of lightening on the horizon, followed by a distant clack of thunder. This made for some interesting photography when the whole weather system came closer. Eventually, after a particularly loud clack of thunder sounded from directly above our heads we decided it was time to move back to the camper and to the shelter of the forest - it's not a good idea to be standing in the open with a metal tripod for a companion.
With the thunder and lightening came the rain .... and a lot of it!! It just bucketed down and we thought of our poor neighbours in their tents although they sounded like they were having a blast regardless of the rain. Tonight is the last night Agawa Bay Campground will be open for 2007 so tomorrow we'll be moving on.
These travel blog entries related to Stormy Weather In Lake Superior Provincial Park may interest you too:
Title:
Stormy Weather In Lake Superior Provincial Park
A close look at a thunder and lightening storm during our stay at Agawa Bay in Lake Superior Provincial Park, Ontario.
Author:
Michelle Coats
Date:
cdn_k3s33667
Newest travel blog entries:
Press "Ctrl+D" to bookmark this page.
Please use this Code to link to this page (copy/paste):