Toronto Night Lights Ontario Canada
Picture of the CN Tower and city lights in the metropolis of Toronto on a clear spring night.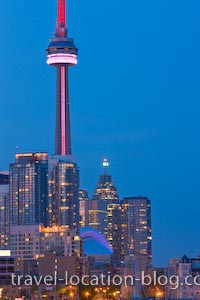 Photo of the illuminated CN Tower
and night lights of Toronto.
May 16, 2008:
The day ends with a night out with our friends at one of their favourite clubs but before relaxing and with a few tips from Alen our friend about some great spots to photograph Toronto from, Rolf captures a few photos of Toronto from a slightly different perspective.
In the western flanks of the city is Ontario Place a conference centre right on the shores of Lake Ontario - the carpark affords a beautiful view of the city as night falls. Then later he moved to Little Norway Park, another interesting perspective.
Skyline of Toronto City seen from Ontario Place, Toronto, Ontario, Canada at dusk.
These travel blog entries related to Toronto Night Lights Ontario Canada may interest you too:
Title:
Toronto Night Lights Ontario Canada
Picture of the CN Tower and city lights in the metropolis of Toronto on a clear spring night.
Author:
travel-location-blog.com
Date:
cdn_22v_13239
Newest travel blog entries:
Press "Ctrl+D" to bookmark this page.
Please use this Code to link to this page (copy/paste):