Town Of Monteriggioni Tuscany Italy
Picture of a tiny fortified town situated in the province of Siena, Tuscany, Monteriggioni and its walls which are punctuated by 14 towers date back to the 13th century and is one of the largest and most well preserved towns of its kind.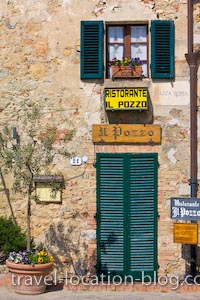 Picture of a typical building in the town
of Monteriggioni, Tuscany, Italy.
April 7, 2008:
Door to a restaurant with a window above adorned by potted flowers in Piazza Roma, Town of Monteriggioni, Province of Siena, Region of Tuscany, Italy, Europe.
These travel blog entries related to Town Of Monteriggioni Tuscany Italy may interest you too:
Title:
Town Of Monteriggioni Tuscany Italy
Picture of a tiny fortified town situated in the province of Siena, Tuscany, Monteriggioni and its walls which are punctuated by 14 towers date back to the 13th century and is one of the largest and most well preserved towns of its kind.
Author:
travel-location-blog.com
Date:
eur_22v_6917
Newest travel blog entries:
Press "Ctrl+D" to bookmark this page.
Please use this Code to link to this page (copy/paste):