Waterfalls And Valleys Of Salzburger Land Austria
We join our friends from Frankfurt in the resort town of Neukirchen in Austria and explore the waterfalls and valleys under a blanket of white snow.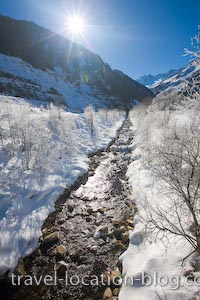 Picture of the snow fringed river,
Wildgerlos Valley during winter, Austria.
February 19, 2008:
An Alpine river fringed by frosted trees and snow in the Wildgerlostal (Wildgerlos Valley), Salzburger Land, Austria, Europe.
More info about our travels in Austria coming soon ...
These travel blog entries related to Waterfalls And Valleys Of Salzburger Land Austria may interest you too:
Title:
Waterfalls And Valleys Of Salzburger Land Austria
We join our friends from Frankfurt in the resort town of Neukirchen in Austria and explore the waterfalls and valleys under a blanket of white snow.
Author:
travel-location-blog.com
Date:
eur_22v_5754
Newest travel blog entries:
Press "Ctrl+D" to bookmark this page.
Please use this Code to link to this page (copy/paste):