Lucchio And Bike Races Tuscany Italy
The village perch of Lucchio and a bike race in Bagni di Lucca, Tuscany, Italy.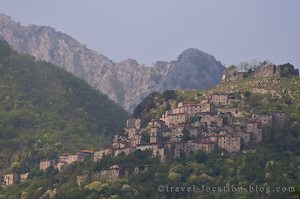 Photo of the village perch of Lucchio
in the Tuscany, Italy.
We checked out of our room at the Corona Hotel, which overlooked the Torrente Lima only a few metres from our window and set off to explore this beautiful region.
After finding some great Italian coffee and being temporarily held up by a medium scale bicycle race through the streets of Bagni di Lucca (Tour de France - not!), we back tracked along the SS12 a little to the hilltop perch of Lucchio.
The only parking is outside the village so we park the car and load up with camera equipment, writing tools, and plenty of sunscreen. When we enter the village we can see why there is no parking - the streets are narrow, steep walkways - not a place to drive a car!
We walk past many quaint village houses built close together and tucked almost precariously into the hilside. Our sights are set on the very top of the hill where from the road we could see the ruins of an 11th century fortress at the end of a dirt track.
We were rewarded with stunning views from the fortress of the lush green Lima River Valley and surrounding villages also on hillside perches. Suggestion: when visiting Lucchio be sure to wear good walking shoes with plenty of grip for walking up to the fortress, plus the village itself is full of fascinating sights, so no doubt you will want to spend some time here for sure!
Village of Lucchio,Tuscany, Toscana, Italy, Europe.
These travel blog entries related to Lucchio And Bike Races Tuscany Italy may interest you too:
Title:
Lucchio And Bike Races Tuscany Italy
The village perch of Lucchio and a bike race in Bagni di Lucca, Tuscany, Italy.
Author:
Michelle Coats
Date:
07.05.06 - Lucchio and Bike Races Tuscany Italy w6422
Newest travel blog entries:
Press "Ctrl+D" to bookmark this page.
Please use this Code to link to this page (copy/paste):