San Gimignano Dusk Tuscany Italy
Picture at dusk of a few of the towers which adorn the San Gimignano skyline from the surrounding countryside in the Tuscany, Italy.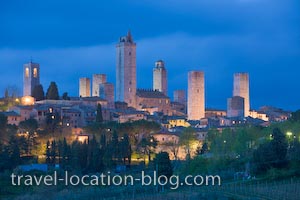 Photo of the town of San Gimignano at dusk,
Tuscany, Italy.
April 11, 2008:
Skyline of the Town of San Gimingnano at dusk, UNESCO World Heritage Site, Province of Siena, Region of Tuscany, Italy, Europe.
These travel blog entries related to San Gimignano Dusk Tuscany Italy may interest you too:
Title:
San Gimignano Dusk Tuscany Italy
Picture at dusk of a few of the towers which adorn the San Gimignano skyline from the surrounding countryside in the Tuscany, Italy.
Author:
travel-location-blog.com
Date:
eur_22v_9231
Newest travel blog entries:
Press "Ctrl+D" to bookmark this page.
Please use this Code to link to this page (copy/paste):