Soave And Tuscany Italy
A little bit of Soave and Tuscany, Italy, Europe.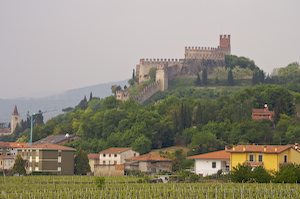 Photo of the Castle in the village of
Soave in Veneto, Italy.
After finding an internet store around the corner from our hotel and helping them out on various aspects of connectivity, we find our way out of Mestre and head to Soave. Soave has one of the best examples of an ancient castle which is still fully intact and in great condition. Soave is well known for having some of the finest Italian wine and we can also say that they have the best Gelato ever to pass over our taste buds!!!
The drive down the SS12 from Modena (famous for producing fine vinegars) was beautiful especially between Abetone and Bagni di Lucca. The road follows the Lima River Valley and has a great variety of landscapes and flora which also provides for some extensive exercise in getting in and out of the car for photographs and views!
We end the day in Bagni di Lucca at the cozy Corona Hotel which is situated right on the Lima River or Torrente Lima.
Soave Castle, Soave, Veneto, Itay, Europe.
These travel blog entries related to Soave And Tuscany Italy may interest you too:
Title:
Soave And Tuscany Italy
A little bit of Soave and Tuscany, Italy, Europe.
Author:
Michelle Coats
Date:
06.05.06 - Soave and Tuscany Italy w6369
Newest travel blog entries:
Press "Ctrl+D" to bookmark this page.
Please use this Code to link to this page (copy/paste):